Imagine a printer who will help you organize your time, boost your efficiency and someone who realizes that you are busy... we are that supplier. Our extensive product line offers you the convenience of a one source supplier, designed to save you time and money. No longer will you need to contact one vendor, then another to fill your printing needs. Our offerings range from business cards to a more complex business form tailored specifically to your business and your needs. We even offer you a highly successful line of advertising specialty products to help promote your business. Whatever your need may be, we are your one source supplier.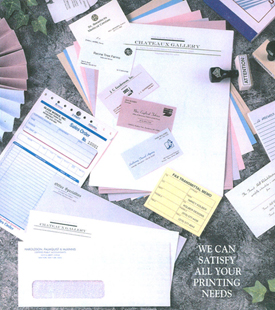 •
Copy and Fax Services
•
Color Copies
•
Business Cards
•
Stationery and Envelopes
•
Wedding, Social and Business Invitations
•
Business Forms (all types)
•
Sales Register Forms
•
Auto Repair and Service Forms
•
Restaurant Guest Checks
•
Brochures
•
Tickets
•
Resumes
•
Laminations
•
Banners
•
Magnetic Signs
•
Job Site / Real Estate Signs
•
Rubber / Self Inking Stamps
•
Nameplates
•
Labels
-
Shipping / Mailing
-
Advertising
-
Return Address
-
Specialty
•
Advertising Specialty Items

Our extensive product line offers you a one stop shopping center for all your printing and related product needs.