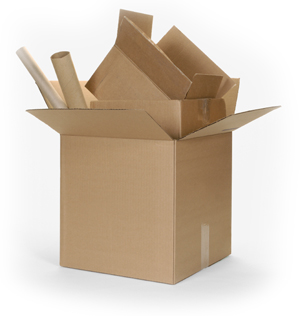 In an ever changing marketplace dominated by new services, new technologies, new rating formulas, all kinds of surcharges and rising costs, the shipping industy is no small task to master. It takes a professional and knowledgeable staff that understands the industry. With over forty-six years in the business and contacts with the nation's largest carriers, PCI will guide you on the best way to get your project accomplished. Our goal and commitment is to offer a full service program to take the burden of shipping off your shoulders and putting it on ours. So whether you need it there ASAP, or the most economical way, we get the task accomplished!
Have you had the experience of packing & shipping your item on your own, and upon delivery, your item is damaged and claim rejected by the carrier? We are not surprised. To get that result after wasting the time to figure out how to pack your items, getting all the materials like the box and cushioning materials, it is a major and costly experience. We handle your items as if they were ours. With our "PACK TO SUCCEED" promise, you can rest assured that your items are packed to meet or exceed all carrier guidelines.
We ship just about anything, anywhere. As a multi-carrier operation, we have the options:
NEXT DAY AIR

Delivery - Guaranteed

SECOND DAY DELIVERY

- Guaranteed

THREE DAY DELIVERY

- Guaranteed

GROUND

for timely and cost efficient delivery

FREIGHT and AIR FREIGHT SERVICES

UPS, FEDEX EXPRESS, USPS, etc.
By having a multi carrier operation, we evaluate the shipment as to who best will match the requirement of reasonable price and equally important, best service. Small package carriers like UPS, FEDEX are not just about small parcels. They handle much bigger boxes than in the past. But in doing so, surcharges applied to these shipments add up quickly. Since so many factors go into determining cost, just the dimensions of the box can drastically influence a shipment.
Sometimes, just due to size, weight and/or the item itself, freight or air freight services are required. Through our association of multi carriers, we are able to handle the need. We are able to ship antiques, artwork, heavy equipment, electronics to name just a few. Many times we just want the item to be handled better than what a small package carrier may do, so we build custom pallets to position and secure the item.
The bottom line is, the old idea of wrapping your package in brown paper labeled with a thick magic marker and simply putting it on a scale and getting a price are behind us. Today's environment demands evaluating and determining all factors necessary to arrive at the final way to handle a shipment. So, whether it is a letter or document that needs to go overnight, a ground shipment that simply needs timely delivery or large freight, PCI has the knowledge and experience to accomplish the task. PCI has earned the designation as a TOP 100 UPS SHIPPER OUTLET in the country every year. PCI is the right place, right choice. We look forward to serving your needs.
HIGHLIGHTS: SOLUTIONS THAT TAKE THE HASSLE OUT OF SHIPPING

UPS
FEDEX Express
Air Freight
Motor Freight
Van Line Service
Domestic / International
Professional Packaging
Custom Cartons
From Next Day Air to Ground Service
Packaging Supplies

UPS TOP 100
SHIPPER OUTLET
IN THE COUNTRY